I've got a few irons in the fire, so how bout a little tease? x ~ Leisa.
---
Misery Incorporated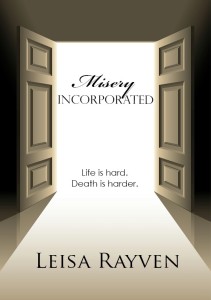 Somewhere between heaven and hell, there's a bar. It's a nice bar. Comfortable chairs. Mood lighting. Free drinks. Full of a whole bunch of souls who haven't been good enough to receive their heavenly reward, or bad enough to be subjected to eternal damnation.
Flynn Matthews is one of those souls. Drug addict. Petty criminal. An underachiever in every way. Ripe to be recruited as a Soul Acquisition Agent for Misery Incorporated. It turns out, soul acquisition is one thing Flynn is good at. He's hardworking, and surprisingly creative when devising ways in which to taint souls with doubt and self-loathing.
Then he meets Kiara Swanson. Her soul seems impervious to his efforts of corruption. The trouble is, if he doesn't succeed in acquiring her for his quota, his glamazon boss, Misery, is going to be all kinds of pissed.
So now he has a deadline, a frustrating and intriguing client, and six-feet one of blonde fury breathing down his neck.
Anyone who thinks death is easy, obviously hasn't lived it.
READ an excerpt of Misery Incorporated
---
Serenity Road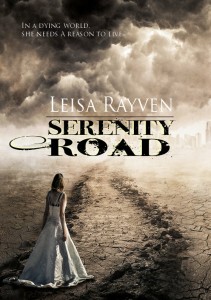 Her fiancé is dead, the world she knew is crumbling around her, and if Kelsey Kyle stops to think about any of it for too long, terror and loss will scream out of her like a dark storm.
Blessed with a genetic predisposition to resist the deadly pathogen sweeping the world, she must reach her parents in the only safe compound still in existence. Unfortunately, there's a whole continent and several million Infected standing in her way.
When she comes across Lucas Young, she thinks she's found an ally in her unwinnable war, but she soon realizes that death isn't the worst thing that can happen to a person. Consumed by toxic anger, Lucas hunts the Infected like it's his job, savagely taking revenge for what he's lost, and nearly killing Kasey in the process.
Caring about him is dangerous, but in a dying world, he's the only thing that makes her want to live again.
READ an excerpt of Serenity Road
---
Sarah + Sam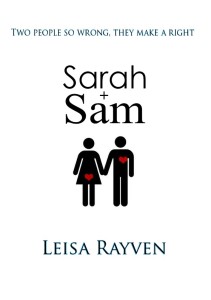 He's a neat-freak workaholic who has intimacy issues and a fear of chaos. She's a messy freelance actor with a sexual impulse disorder and low self-esteem. They're everything the other is not, and the only thing they have in common is the waiting room of their respective therapists.
For six months they share that tiny room without interacting, but when their therapists give them a homework assignment to make friends with someone of the opposite sex, they realize they could be each other's salvation.
Sam promises to help Sarah gain more control in her life and not sleep with every man she meets. In return, Sarah vows to loosen Sam up and help him become less dysfunctional with women.
Somewhere along the way they become unlikely friends. Good friends.
Best friends.
The type of friends who want what's best for the other, even if it's someone else.