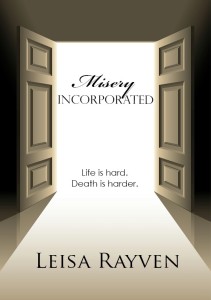 Flynn Matthews didn't think dying would be so hard. He'd seen people die before. His Grandfather. His brother. His Mom.
They'd all made it look easy. Like they'd simply slipped free of all the tiny strings holding them to this world and melted away.
This was nothing like that. This was agony. A white-hot shaft of pain that pulsated around the knife buried in his abdomen. He grabbed the dark hand holding it, and tried to pull it free, but the hand held fast. Then it twisted, and the agony was so big it screamed out and ricocheted against the rain-slick walls of the deserted alley.
Flynn fell to his knees. He saw the knife in his attacker's hand, and yet the pain made it seem like it was still inside him. He could feel moisture sluicing down his thighs and he took a moment to register it felt completely different to the light rain falling around him. Wrong temperature. Wrong viscosity.
Absolutely the wrong color.
As he collapsed, his cheek slammed against the pavement, and his sideways view of the streetlight at the end of the alley made it seem almost serene, framed by a corona of incandescent drizzle.
"Shoulda paid me what you owed me," a low voice said above him. "Kept the junk for your customers instead of shoving up your nose. Stupid junkie fuck."
He couldn't argue. He was a stupid junkie fuck. So focused on getting his next hit he didn't care who he pissed off or stole from in the process.
Now he cared, but it was too late. The life he spent pissing away being angry at the world was now ebbing from his body in ever-diminishing pulses, spreading in a dark pool on the filthy concrete.
He was only twenty-three. Too young to die.
And yet he was dying. A hard, painful, violent death.
No less than what he figured he deserved.
He watched his killer walk away as dark shadows swarmed through his vision, and when his heart ran dry, he closed his eyes and waited for the end.
No, his death wasn't easy, but when he looked back on it in years to come, he'd realize it was a piece of cake compared with what happened afterward.
---
Want more? Sign up for email updates & keep in the loop!