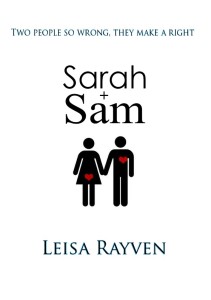 Sarah
Date: Wednesday, 13th January
Mood: Optimistic
Days without sex: 3
Tension level: Moderate
Affirmation: I do not need to have meaningless sex to validate myself. I'm a strong, independent woman. The only person who has power over my feelings is me.
Affirmation believability: Low.
I alternate between watching the tropical fish float around the obnoxiously large tank and gazing at the clock ticking hollowly on the wall.
I hate being here.
The only reason I am is because it's part of my court-ordered therapy.
Jeez, you get caught banging one guy in a subway bathroom and suddenly people think you're a freak.
Okay, it was two guys. Three if you count the security guard who I tried to bribe with a quick handy when he caught us. Needless to say he didn't go for it, so here I am.
Therapy. As stupid and pointless an exercise as I could possibly comprehend.
My shrink is a woman. That's court-appointed as well. Apparently the judge couldn't trust me with a male doctor. Probably thought I'd have fucked him to get out of talking about my so-called issues.
Probably would have been right.
So they lumped me with Dolores Woodcock. A handsome woman with cankles for days who probably stopped having sex in the sixties. She's portly, big-haired, and judges me for having a healthy libido.
What does she know?
Sexual impulsivity, she calls it. What movie stars and unfaithful sportsman like to call 'sexual addiction'. It's such bullshit.
I'm not addicted to sex. I just like it. A lot. So much that if I don't have it every day, I find myself getting tense and anxious.
I'm not addicted.
I'm sure there are heaps of people like me. I'm just the stupid idiot who got arrested. I've had sex heaps of times in public restrooms previously with no trouble. I guess this time my luck just ran out.
I look at the clock again. Not long to go now.
I'm nearly breathless with anticipation. Not.
Right on time, the door opens and he walks in.
Mr. Uptight.
I've named him Uptight because I don't know his name and he's clearly uptight. See the genius of me?
He's wearing his grey suit today. Every second Monday he wears the grey, alternating it with the navy. His shirt is always white. His tie, always conservative. Medium brown hair slicked back and neat. Glasses, polished and dark.
He's impeccable but not stylish. Expensive but not pretentious.
If I were to assess him objectively, I'd label him gorgeous. Tall. Broad. Strong, dark brows. Modelesque cheekbones and jaw.
But he's too clean-cut for my taste. I like my men a bit rough around the edges. Piercings. Tatts. A proclivity to treat me like crap.
Mr. Uptight seems like a decent guy. I don't do decent.
As usual he doesn't look at me as he closes the door and moves to the armchair across the room, and as usual he takes out his iPad and tippy taps on the screen. I watch him because I'm bored, not because he's adorable when he frowns in concentration. Plus, in here, there's not much else to look at.
The waiting room has two chairs, each next to a door on opposite walls. There's a small table with magazines, a noisy wall-clock, and a fish tank so large I swear to God they swiped it from Seaworld. No other decoration. No receptionist.
In a few minutes the lights above the doors will flash, signaling that our doctors are ready to see us. Uptight will quickly pack up his tablet and head into Dr. Henry's room, never acknowledging my presence, and I'll go to my session with Woodcock.
I don't mind that Uptight ignores me. In fact, it's kind of nice.
I'm used to men honing in like I have a sign above my head that reads, "I'm easy and will probably fuck you. Please hit on me."
Uptight's never really looked at me. Never raked his eyes over my body in a way that makes me both sickened and aroused.
It's weird for me to be near a man who's not trying to get into my pants. It doesn't happen a lot.
I watch him type, his brows furrowed in concentration, his long fingers quick and deft.
With any other man I'd fantasize about those fingers bringing me pleasure. With him I just enjoy the aesthetic beauty of them. I do, however, notice no wedding ring. Some habits die hard.
I wonder why he's getting therapy. I'm pretty sure it's not for the same reason I am. If it were we would have fucked on every horizontal surface in here by now. As it is, I'm pretty sure he doesn't even know I exist.
The lights flash.
True to form, he packs up and pushes through Dr. Henry's door without even so much as a backward glance.
"See you next week, Uptight," I say to the empty waiting room before heading over to Dr. Woodcock's door. "Take it easy 'til then."